Jul

19
Tags
Related Posts
Share This
Sinema Showoff! My Singapore (A National Day Special)
Every last Tuesday of the month, Sinema Old School hosts a themed screening called Sinema Showoff! Curated by academic staff and students from Singapore Polytechnic's School of Architecture and the Built Environment (Diploma in Integrated Events & Project Management), Sinema Showoff! is a film programme that showcases good short films and music videos produced in Singapore.
This month, in conjunction with National Day celebrations, Sinema Showoff! team brings a selection of short local films that mirror tales of curiosity and hopes of immigrants past and present.
Sinema Showoff! My Singapore (A National Day Special) will be held on Tuesday, 26 July 2011, 7.30pm at Sinema Old School (11B Mount Sophia, B1-12, Singapore 228466). Admission is free!
All directors will be in attendance for a Q&A session following the screening, except Sherman Ong who will be away at PhotoIreland. He will be represented by Kent Chan who was co-incidently the Editor for TICKETS. The moderator for the Q&A session will be Dr Nina Dimitriadou, Post Doctoral Fellow, School of Design and Media, Nanyang Technological University.
Prior reservation of seats is encouraged as the screenings usually run full-house – kindly RSVP here.
1. WATCHING PAN
Ho Rui An | English| 25 mins| PG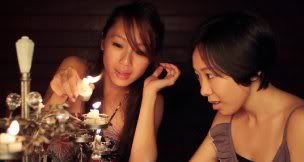 Sun Li is a Chinese migrant who is emotionally estranged from her family. She obsessively tails and watches a strange, enigmatic girl whom she barely knows. On the eve of her return to China, a chance encounter leads her into the world that was previously only seen from a distance.
---
2. FILEM
Kent Chan | Mandarin | 10 mins | PG
A film crew sets out to film a historic epic, but the lack of funds sees them having a less than desirable cast of locals and foreign-talent.
---
3. TICKETS
Sherman Ong | Mandarin | 10 mins | PG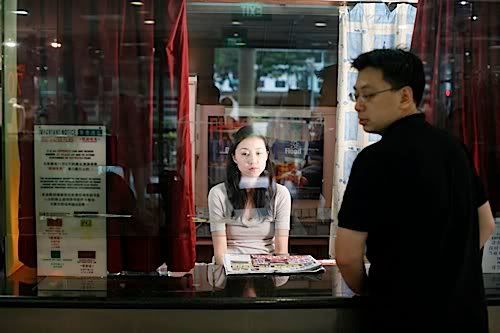 This film centres on Xiao Jing, a ticket seller in an old cinema in Singapore. Coming from China to study acting in Singapore, the young lady has her hopes set on breaking into the Singapore film industry as an actress.
---
4. MRS SANTHA BHASKAR
Tara Tan | English | 3 mins | PG
A documentary on classical Indian dancer, Santha Bhaskar, 70, who came to Singapore in 1955. The artistic director of Bhaskar's Arts Academy pioneered the local traditional Indian dance scene and is a recipient of the Cultural Medallion award, the Republic's highest accolade for artists.
Commissioned specially for the Singapore Pavillion at World Expo 2010 Shanghai.
---
5. LABOUR DAY (CURATOR'S PICK)
He Shuming | Malay, Mandarin, Cantonese & English | 26 mins| PG

Cik visits her old flat to collect rent from her two foreign worker tenants who are on their way to work – Zoe, a frumpy 30-year-old Malaysian Chinese whose second application to be a Singapore citizen has just been rejected, and Purple, a study-mama from China, who is hiding a secret from her 12-year-old son.
Supported by Singapore Film Commission (SFC).